Please find order form at the bottom of this page. Simply type in the cheese you want and the quantity. No payment required through this website. Payment upon collection. If you have any queries please don't hesitate to get in touch legrandfromageperth@gmail.com
Mango & Ginger
Wensleydale
A traditional mild Yorkshire Wensleydale with sweet pieces of
mango and ginger, combine to produce this sweet dessert cheese.
Suitable for vegetarians.
$6.50 per 100g
This French semi-soft cheese is produced on the Franco-Swiss border. As it matures it's rind is washed with French white wine.
An excellent flavoursome cheese has a soft texture without being spreadable,
Perfect for just eating on bread or with a meal or cheese board. It is best known as a superb melting cheese and is used in fondue or melted over a baked dish.
It is also traditional to just heat the the cheese with a flame or next to a heater and simply scrape the cheese off with a knife onto a bagette.
$6.90 per 100g
An authentic Manchego sheep's milk cheese, cured then
infused with hot mojo picon paste of Canary Islands chillies.
$8.30 per 100g
Manchego is produced in the La Mancha region of Spain, which is also home to Don Quixote.
This authentic Manchego is made from the pasteurised milk of Manchego sheep. The rind is inedible with a distinctive, traditional herringbone basket weave pattern.
This Semi Curado - Manchego cheese is aged around 3 months and is supple and moist. The flavour is fruity, nutty, and slightly tangy.

$6.30 per 100g
This Comte is matured for 18 months. Comté is a semi-hard French cheese produced in the Jura Massif region of Eastern France. The unpasteurised cow's milk used is mainly from Montbeliarde Cattle or French Simmental.
The main aromatic flavours that delicately linger on the palate are a balance of brown-butter and roasted-nut aromas and a sweet finish.
$9.70 per 100g
This authentic Italian parmesan cheese is aged between 9 and 16 months. It is characterised by its sharp, nutty flavour and grainy texture.
Grana Padano is one of the world's first hard cheeses, created nearly 900 years ago by Cistercian monks.
Produced from cows milk, it is ideal grated on a salad or pasta, or eaten on a cracker.
$5.90 per 100g
This Pepper Pecorino is a fine Australian take on the classic Sicillian cheese and is made from cow's milk. It is a hard, flavoursome cheese with a delicious piquant flavour complimented by the peppercorns throughout.
Very good for grating on pasta, a salad or eating on a cracker.
$5.80 per 100g
Piave Vecchio Selezione Oro is an Italian cow's milk cheese named after a river of the same name. This authentic cheese is produced in the Dolomites area of Belluno province of Veneto, Italy.
Although from the Parmesan family of cheese, Piave is hard, grainy and crumbly, with a flavour that is mild and never sharp.
It can be used in the same way on a pasta, a salad or on simply eaten on a cracker, but has a sweeter finish than parmesan.
$6.80 per 100g
Cheshire has a good claim to be Britain's oldest named cheese and is said to date back to Roman times. A lovely, semi dense, creamy, tangy cheese, that is white and crumbly.
Cheshire has survived the test of time and continues to be a hugely popular cheese.
Perfect to eat on a cracker and also good to crumble over a salad.
$5.50 per 100g
Suitable for vegetarians
Dorset Drum is an authentic English Farmhouse Cheddar. It's one of only a few Cheddars to carry the world renowned Protected Designation of Origin (PDO) status for Farmhouse Cheddar.
Dorset Drum is made on a farm in Dorset, using milk from herds that graze on the lush, green pastures of the South West of England. Dorset Drum is a mature Cheddar with a full depth of flavour. An exceptional tasting Cheddar ideal for any cheese board.
$6.60 per 100g
Suitable for vegetarians
Beemster Royaal is a Dutch Gouda. A unique cheese that tastes as cheese should with a wonderful smooth creaminess, with a slightly nutty and slightly sweet taste. An excellent alternative to the standard cheese fare.
Classed as 'Lactose Free' in Europe and extremely 'Low Lactose' in Australia -less the 0.03%
$6.50 per 100g
A naturally hardwood smoked Australian cheddar. Very savoury and full of flavour.
$6.70 per 100g
Red Leicester is a hard cheese made from cow's milk, similar to Cheddar but much more moist, crumblier and with a milder flavour.
Made in England, the history of Red Leicester dates back to the 17th century. To set it apart from cheddar and highlight the quality of cheese, Leicester is coloured with annatto seeds. The colour indicates that the milk used has a high cream content.
$6.60 per 100g
A soft and creamy (even runny) sheep's milk cheese with edible rind, with a silken texture and superlative flavour. Don't waste your time digging for unnecessary nuance; just lean back and experience the joy of dairy that doesn't have to try to be good. It just is.
Being made from sheep's milk, it is also a great option for those avoiding lactose.
$10.35 per 100g
This log shaped Tasmanian Triple Cream Brie is always smooth, very creamy and soft, with a subtle and rich flavour.
$8.90 per 100g
Produced in the Rhone-Alpes region of France, this is a very smooth creamy soft cheese. IA soft cheese with a white mould rind, it has a silky consistent texture and creamy flavour.
$8.70 per 100g
Bresse Bleu is a creamy blue cheese with a bloomy rind. It's produced in the Rhône-Alpes area of France. This extremely popular mild blue cheese has a smooth and sumptuous flavour. Ideal for those who appreciate a milder, great tasting cheese.
$9.70 per 100g
The Grandfather of blue cheeses, Stilton can only be produced in the three counties of Derbyshire, Nottinghamshire and Leicestershire. The cheese is made from pasteurised cows milk. It has a natural outer crust, with blue veins radiating from the centre of the cheese.
A full-flavoured, strong blue cheese with a crumbly texture. Perfect with a contrasting sweet wine or port and fruit, on crackers or crumbled over a salad or baked dish.
$7.60 per 100g
Cambozola is a triple cream, brie-style blue cheese made from pasteurised cow's milk from the southern German region of Allgäu.
It is creamy, moist and rich like a Camembert with blue flavour. A soft-ripened cheese, the insides reveal pockets of blue veining.
Similar to Bresse Bleu as a creamy, mild blue.
$9.25 per 100g
An English cheddar with black truffle.
Truffler is blended with two premium truffle based ingredients – black truffle and an aromatic black truffle oil, to infuse the cheddar with an unmistakeable earthy and heady flavour.
Suitable for vegetarians
$8.60 per 100g
A fine aged artisan Cheddar from Wisconsin.
Aged for at least 17 months, this cheddar has won numerous international awards.
$7.40 per 100g
Red Windsor is a strikingly pink, semi-hard, creamy cheddar cheese. Port and brandy are added during the cheese-making process resulting in its distinctive colour. Despite appearances this is a fine-flavoured cheddar and makes an excellent addition to your cheese board.
$6.30 per 100g
Fromage de Chevre is an exquisite soft-ripened cheese made from goat's milk and produced in the Poitou-Charentes region in the Loire Valley of central France. A log-shaped chevre cheese, it is ripened for a minimum 7 days. Soft and creamy with a flaky center.
A superior alternative to a danish feta, creamy mild and tasty. This is one of our more popular cheeses, perfect for anyone avoiding cow's milk and lactose.
$6.30 per 100g
A semi soft, unripened cheese made from cows milk, made here in Australia.
A delightful 'squeaky' cheese, ideal for frying or grilling.
$4.60 per 100g
An aged Dutch Gouda made from the fresh milk of Friesian cows and naturally ripened. A hard cheese, with a rich, mature, smooth, nutty flavour, aged for around ten months.
$7.40 per 100g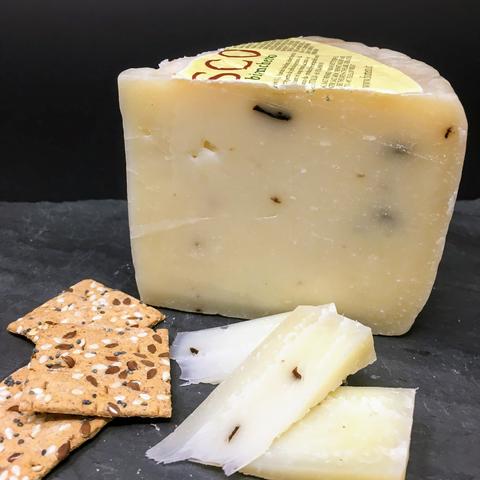 Cacio di Bosco is a pecorino cheese that has small pieces of white truffle scattered throughout.
This hard Italian sheep's milk cheese is made in Il Forteto (the fort), 30 kilometres from Florence.
The balance of flavours is harmonious, delivering a truffle-rich, earthy profile. It's aged for 12 months and has a firm texture.
$13.00 per 100g
An authentic AOP Emmentaler from Switzerland, this is Swiss cheese as it should be.
This celebrated cheese takes its name from the river Emme in the canton of Bern, where production of the cheese can be traced back to the 13th century. It takes about 12 lites of milk to make one kilo of cheese, which is aged for at least four months, resulting in a mild-flavoured cheese with hints of hazelnuts.
This is a fine cheese for slicing, melting or grilling.
$6.75 per 100g
A bold and spicy blue cheese, Gorgonzola Piccante is the older cousin of our Gorgonzola Dolce. The ageing takes about a year in caves, and the cheese is washed in brine during this period. As it ages it develops and outer rind. The cheese is veined with blue mould throughout its ivory surface, and is still creamy and sweet, with a pleasing sharpness and tartness that lingers in the mouth.
Gorgonzola Piccante is a strong blue cheese like Stilton, but more creamy, with its own unique flavour.
$5.80 per 100g
The younger version of the the bold Italian blue cheese, Gorgonozola.
It is softer and creamier than the aged piccante version.
$5.80 per 100g
A fine English cloth bound cheddar, aged 12-15 months. A rich and buttery cheddar that offers outstanding depth of flavour, with the characteristic 'funky' taste of a mature cloth bound cheese.
Eating suggestion - try it with a smear of honey, it's amazing.
$8.90 per 100g
A rich, creamy Tasmanian Brie rolled in coconut ash, this Ash Brie has a striking appearance with delicate smokiness.
$8.10 per 100g
CURRENTLY OUT OF STOCK
AVAILABLE BY PRE-ORDER
Danish Blue is a semi-soft blue veined cheese, made from cow's milk.
An authentic product of Denmark, it has a creamy and crumbly texture with a sharp and salty taste.
$5.60 per 100g (100g min)
Wensleydale is a mild, white, cow's milk traditional cheese with a supple, crumbly, slightly chalky and moist texture.
Cistercian monks brought the recipe from France when they settled in Yorkshire in the 12th century. Wensleydale is a naturally suited to sweet partners such as fruit or fruit cake.
Suitable for vegetarians
$6.60 per 100g
Wensleydale with Cranberries
Wensleydale has a natural sweet acidity that complements fruit, best of all cranberries.
Plump cranberries are add to the cheese creating a great, sweet and juicy cheese. The flavour is locked in using a distinctive burgundy wax. Our Wensleydale with Cranberries is free of artificial sweeteners and made with only natural ingredients.
Suitable for vegetarians
$6.60 per 100g
A soft, mild Australian brie, subtle in flavour and creamy in texture.
$7.50 per 100g
This Dutch semi-hard goat's cheese is so creamy, it melts in your mouth. The cheese is ripened for 20 weeks to develop its flavour. Because the cheese is washed in honey and honey is also added to the curd during preparation, it has just the slightest sweetness and creaminess to its finish.
$5.50 per 100g
Currently waiting on shipment.
New stock arriving the end of May.
This is a very tasty Australian Blue Cheddar. A mid-strength blue with plenty of flavour. An excellent hard blue cheese for the BBQ cheese platter.
$7.40 per 100g
A smooth, firm, tasty Cheddar is blended with wholegrain mustard seeds and ale. Wrapped in red wax and aged for 3 months Red Lion is a buttery cheese with plenty of bite.
Suitable for vegetarians
$6.60 per 100g
A Dutch Gouda cheese with cumin through it.
The cumin seeds give the mild and creamy cheese a pleasant, slightly spicy taste.
$4.60 per 100g
Truffle Honey Washed Goat Cheese
This honey washed rind cheese from Holland is from goats milk. It is washed in a honey solution as it ages for at least 6 months. It does not taste sweet like honey, but has a smooth and creamy taste.
This version of the cheese is speckled throughout with Italian summer truffles, which give a unique and different taste to the non-truffle version.
CURRENTLY OUT OF STOCK
Beemster Extra Aged (X-O) is a rich Dutch cheese made from pasteurised cow's milk.
Aged for no less than 26 months, this matured cheese develops deep, long-lasting flavours of butterscotch, whiskey and pecan. Its pate is deep golden with a crumbly and granular texture.
It's also studded with crunchy, mouthwatering crystals that surprise the palate. Many cheese aficionados look for these tyrosine crystals. Cheese crystals are absolutely delicious, not only adding extra crunch to cheese; they also indicate that the cheese will have a hearty and complex flavour.
$7.80 per 100g
We receive a weekly delivery of fresh 100% buffalo milk mozzarella from South Australia. Sometimes, but not always, surplus stock is available on Monday's following the weekend markets. Otherwise you can place an order to ensure your delivery.
$8.70 per 100g (Max. $12 each 100% Buffalo Mozz. ball.)
Belle De Hollande is a Dutch 100% goat's milk gouda. It has a white pate and a mild taste, perfect as an appetiser.
$6.50 per 100g
Order Form
All cheeses are cut by hand from the round and quantities may differ slightly from quantity ordered ± 20g.
This authentic french Comte is the 12 month aged younger version. It is paler in colour and is slightly softer than its aged counterpart.
This cows milk cheese has plenty of flavour characteristic of Comte, but is less nutty than the 18 month and has not yet developed the cheese crystals found in the older version. Bothe the 18mth adn 12mth versions have their own distinct flavour, so it it is really a matter of personal taste as to which you prefer. A delightful eating cheese very popular in France.
$8.50 per 100g